Cupra might not be a brand that you're too familiar with, but that's about to change. As if the phenomenal ascent of its parent company, Seat, over the past five years wasn't enough, the fascinating development of newly announced Cupra promises even more, keeping the best parts of Seat models and spinning them in an even more desirable direction.
The Cupra Ateca, the first model to bear the new tribal emblem, blends the latest developments with all of the maker's performance know-how, built up via 20 years of making Seat cars go faster on the race track, rally stage and open road.
As key Cupra figures such as design boss Alejandro Mesonero-Romanos and R&D chief Matthias Rabe have told us, this is really just the beginning. There are plans for a full model range and even the tantalising prospect of a bespoke sports car, all of which makes Cupra's future look very bright indeed.
Our drive in the Magnetic Grey Cupra Ateca starts no more than 20 miles away from Seat's enormous Martorell facility, where this car was designed, engineered and manufactured.
In just 12 hours we will complete our own circuit of Spain's eastern tip before returning the Cupra Ateca to central Barcelona. In that time, we will get beneath the skin of this four-wheel-drive car, which hits 0-62mph in 5.4secs with a top speed of 152mph.
This is a car that will be driven on a daily basis not only in town and on motorways but also on the kind of remote, twisting mountain roads that invite you to get the best out of it. 
So how does it fare on the open road as the pinnacle of parent company Seat's performance capabilities? Watch the video below to discover more.
With Cupras and their owners coming from Reading, Bristol, Cambridgeshire and the Midlands, our chosen meeting point – the A338 in west Berkshire – is not only conveniently central but also happens to be one of the best places in the south of England to test and photograph performance cars.
Pretty rolling hills and a wide variety of road surfaces make this pocket of countryside a regular Autocar haunt, and it is here that we meet four Seat Cupra owners one Sunday morning.
The oldest car in our quartet is Karl Smith's first-generation Leon 20VT. The original Leon, first introduced 20 years ago, is still a handsome thing. Following a quick once-over at a nearby jet wash, the car's paintwork brought back to its best, there's no real indication that the basic design of Karl's Leon is now two decades old. It somehow looks fresher than that.
This particular car is a 2002 model with a 1.8-litre turbocharged engine that features an unusual 20-valve head. With three inlet and two exhaust valves per cylinder this engine is more efficient than an otherwise comparable 16-valve motor would be, and with 177bhp in standard tune it's certainly not short on power.
Karl bought the car 18 months ago from a friend. "It's the first Seat I've had," he says.  "I liked this model even before my friend bought it, so I knew I wanted to own one some day. Other than an induction kit the car is standard. It's actually gone up in value since I bought it, which is nice, but I really like it because it's both comfortable and fun to drive. I'll definitely have another Seat Cupra because they're that bit sportier than other models in the VW Group empire." 
Stuart Kelly's first-generation Leon Cupra R was the immediate successor to Karl's car. It uses the same 1.8-litre four cylinder engine, albeit with power ramped up to 222bhp.
Stuart's is a pristine 2004 example. "I've owned this car since 2006," he says. "But before that I had a similar Cupra R as my company car.  "When I changed jobs and handed that one back I went straight out and bought another because they're such good cars. I've always driven hot hatches and the Cupra R had everything: the looks, a really good engine and great handling. It also came really well equipped as standard.
"I can't get rid of it now. I love the car to bits and I'm at the stage now where even if I do buy a new car, I'd still keep this one. I like the fact that Seat is part of the Volkswagen Group so you know the quality is there.
"This car is my daily driver, which is one of the reasons I haven't modified it, but I do take it to shows. Even with 100,000 miles on it the car still looks immaculate."
From Stuart's first-generation Leon we skip forward to a second-generation model.  The Mk2 Leon was introduced in 2005 and continued Seat's then recently introduced design language, which combined flowing curves with sharp, almost feline details.
Jon Holland's Leon Cupra R is the most striking car in our group, its already eye-catching design perfectly accentuated by bold blue paintwork. Jon's is the most heavily modified of the four Cupras, too, with its power output boosted to 370bhp.
"I started with a remap, which is where most people start out," he says, "and later on I added an aftermarket intercooler, a high-pressure fuel pump and a turbo-back exhaust system. I didn't just want a faster car that I couldn't handle, though, so I've also uprated the suspension and brakes. I've had it just over 18 months now. I like the styling of the Leon, particularly the curves and the rounded bodywork, but I also like that most people have no idea from looking at it how fast the car actually is.
"I'm at the limit now of how much power I can put through the front wheels, so the next modification will be converting it to four-wheel drive. With that done, I'll fit a bigger turbocharger and get it up to 400bhp or so."
The final car in our foursome is Scott Fulton's Leon Cupra 300, a 2017 example and the only third-generation Leon in the group.  It is also the only car here with a DSG dual-clutch automatic gearbox. As the owner of the seatcupra.net website, Scott is as hardcore a Cupra enthusiast as they come. "I've had this car for a year and a half and before that I owned a Cupra 280," he says. "I've been through all the generations, starting with Seat Ibizas and working my way through the Leons, so this car is actually my seventh Seat.
"I've always been a massive fan of the brand because it's a bit different to the norm and not so common. With Seat you also get a lot of kit for your money, but the big thing is the Cupra community here in the UK. For all those reasons I've become completely brand loyal. I wouldn't consider anything else.
"This latest Cupra 300 model is sublime to drive and I love the DSG gearbox. I've been through the whole modifying thing over the years with my other Cupras, but this car is so well sorted out and so powerful that it simply doesn't need any upgrades."
Over Sunday lunch at the nearby Queen's Arms, Karl, Stuart, Jon and Scott discuss their shared love of Cupra.
Time and again the same themes crop up in our conversation. So much so, in fact, that by the time our main meals have been cleared away it's clear to us all not only why Cupra owners are drawn to the brand but also exactly what the new-look Cupra brand will need to arm its forthcoming cars with in order to keep these owners, and others like them, on side. Those factors are performance, driving fun, head-turning styling, ease of tuning and above all else, individuality. Make a note, Cupra, your public has spoken.
These four cars are the cornerstone of the Cupra's back story. Using some of the best roads in Spain - as well as a haunting old racing circuit - we tell the story of Cupra from its inception to the present day.
The 1996 Ibiza GTI Cupra Sport 16v was the first Cupra showroom model. But for an entire generation of rally fans, the Cupra will be known as the road-going versions of the Ibiza Cupra Kit Car that lit up the world's rally stages in the 1990s (see below).
The Leon Cupra 4 arrived in 2000, four years after the original Ibiza Cupra. At the time this 201bhp Leon was the most powerful SEAT yet produced, but what really marked this car out was its six-cylinder engine and four-wheel-drive powertrain. It remains the only Cupra to use anything other than a four-cylinder motor and one of only a small handful to drive both axles.
The turbocharged Leon Cupra R, launched in 2009, set the company on its way to building hot hatches that boasted the performance and handling agility normally excepted of purpose-built sports cars. The Cupra R's 2.0-litre turbo motor was rated at 261bhp, enough for it to scrabble to 62mph in just 6.2 seconds and push on to 155mph.
At the time the most powerful Cupra to date, the 2017 Leon Cupra 300 was the distillation of everything the performance division had learned since 1996. With 296bhp and, in the car we drove, a quick-fire twin-clutch transmission, the Cupra 300 can launch from a standstill to 62mph in 5.7secs. As well as its power, precision and performance, the Cupra 300 is also a huge amount of fun to drive.
Cupra's motorsport heritage is quite literally built into its name: Cup Racing. The badge was first used for the Ibiza Cupra, made to celebrate the Spanish company's victory in the 1996 FIA 2-Litre World Rally Cup, then a sub-division of the World Rally Championship. Cupra has since grown from that one-off model into a whole line of performance cars and on to a brand in its own right. And motorsport – both on the rally stages and the race track – has been woven into that history. Here, then, we present some of Cupra's motorsport milestones.
 
 
1985 SEAT SPORT IS FOUNDED
Seat's motorsport division succeeded the firm's Special Vehicles department, which ran various rallying projects with the 1430 Especial and 1800 between 1973 and 1983. Seat Sport's early efforts centred around a 1.6-litre-engined version of the Ibiza, with which it competed in various national rally championships around Europe.
1995 TAKING ON THE WORLD
Having built up experience, Seat Sport developed a 2.0-litre version of the Ibiza GTi 16V, homologated under kit car rules (allowing it to have a wider track and larger wheels and brakes than the road car version), to be entered in the FIA 2-Litre World Rally Cup, then a support series to the main WRC.
1996-98 WORLD CHAMPIONS
Seat claimed three consecutive titles in the fiercely competitive 2-Litre World Rally Cup, taking on and beating the likes of Peugeot, Renault and Skoda. The series ultimately ran for seven years and Seat was the only manufacturer to claim more than one title. The first Ibiza Cupra road car was produced to celebrate the 1996 title.
1998-2000 COMPETING AGAINST THE BIG-HITTERS
Seat moved up to the World Rally Championship with the Cordoba WRC, although the car didn't make its debut until Rally Finland late in the season. Toni Gardemeister claimed the firm's first podium with third in New Zealand in 1999, with Harri Rovanperä matching the result in Britain. There was another podium in 2000 on the ultra-tough Safari Rally, but Seat Sport decided to focus its competition efforts elsewhere after that.
2002 TAKING TO THE TRACK
Seat Sport shifted its attention to the race track to showcase the new Leon Cupra R. The Seat Leon Supercopa one-make series began in Spain in 2002, with sister championships quickly established in other countries. The British Seat Cupra Championship, began in 2003 and produced a number of stars, including future World Touring Car champion Rob Huff and triple BTCC title-winner Gordon Shedden.
2003-2004 READY FOR A TIN-TOP TUSSLE
Seat Sport's return to works competition came in the 2003 European Touring Car Championship, with a pair of Toledo Cupra Super 2000 machines. Frank Diefenbacher secured Seat's first podium in Germany. Rickard Rydell claimed the car's first win at Oschersleben the following year. In 2004, the machine first appeared in the BTCC, with Jason Plato and Rob Huff taking nine wins.
2005 WORLD WINNERS
The ETCC developed into the World Touring Car Championship, and Seat Sport continued its progress. Rickard Rydell claimed the firm's first WTCC victory at Silverstone in the Toledo Cupra, a few races before it was replaced by the new Mk2 Leon Cupra. Jordi Gené secured the new car's first victory – fittingly on home ground in Spain. The Leon Cupra made its debut in the BTCC in 2006, with Jason Plato and James Thompson taking 11 wins to secure the manufacturers' title.
2007 A CHANGE OF ENGINE
The new Leon Cupra TDI made its debut midway through the season, with Gené scoring its first win in Italy. Meanwhile, the petrol Leon Cupra took nine more BTCC wins. 
2008 WORLD CHAMPIONS
The Leon Cupra TDI was a dominant force in the WTCC, with the driver line-up of Yvan Muller, Gabriele Tarquini, Gené and Rydell claiming 11 wins. Muller and Tarquini finished one-two in the final standings – with the positions reversed the following season. The diesel racer also starred in the BTCC, scoring nine victories in 2007.
2015 RETURN TO TIN-TOPS
Having relaunched the Leon Eurocup in 2014, Seat Sport created the Leon Cup Racer for the new cost-controlled category, supporting a number of customer teams in various national and international series.
2018 CUPRA TAKES ON THE WORLD
Replacing the WTCC for this season, the World Touring Car Cup adopted TCR rules. With the launch of Cupra, the sub-brand took over Seat Sport's roles, with the Cupra Leon TCR taking on some of the world's best touring car racers.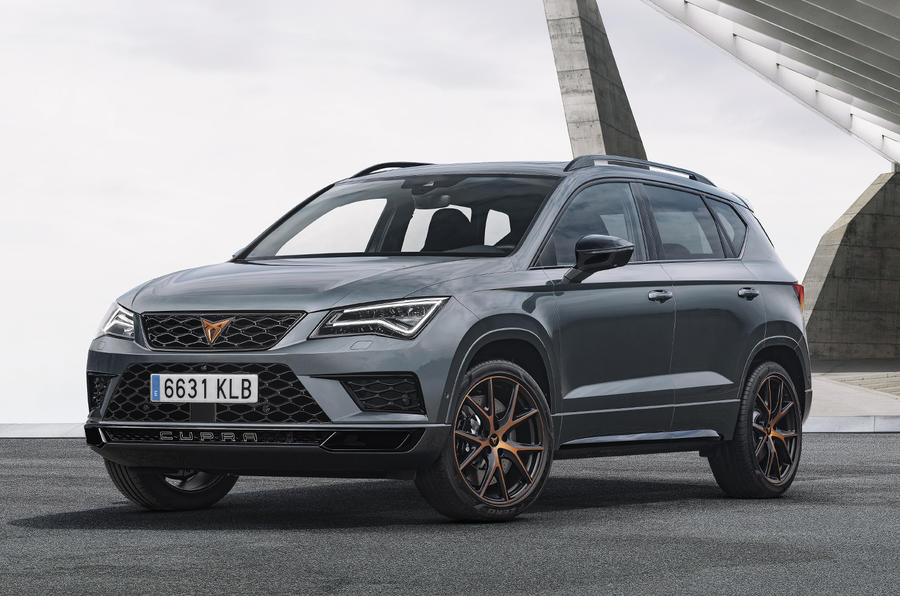 The 2018 Cupra Ateca
You've read about the development and history of Cupra - now read Autocar's full verdict on the new Cupra Ateca.